The Eastern Renfreser Council has pledged to climate change on Scotland Housing Day
---
---
East Renaissance Council Yesterday, Scottish Housing Day was marked by a visit to the latest council development center on Barbers Balgrariiton Road.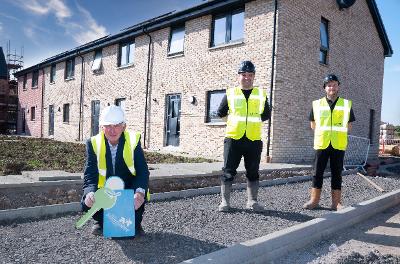 Construction of 47 homes is being carried out in partnership with a Glasgow-based contractor CCG (Scotland) And 6 one- and two-bedroom wheelchairs with flexible apartments, 12 two-bedroom apartments and 26 three-bedroom and four-bedroom apartments. MAST Architects.
Work began in October 2020.
This year's Scottish Housing Day focus is on housing and climate change, which is at the forefront of housing priorities.
All of these homes were built to improve the CCG's improved iQ Timber System, a combination of structural wood frame solutions with modern construction methods that improve air and thermal performance characteristics. This results in significant heat dissipation, along with low energy demand, which contributes to lower carbon emissions and generates energy savings each year.
The council said the innovation is contributing to the Gate Zero strategy, which could improve housing and other energy efficiency around East Renfreshire.
Get to Zero Strategy also includes the following
Development of a new local housing strategy
Invest more than ሚሊዮን 11 million over the next five years to improve the energy efficiency of our tenants' homes
Add ጠውን 900,000 in funding already approved by the Scottish Government Housing Energy Program to provide energy improvements to homeowners.
Achieving and exceeding the Scottish Government's energy efficiency in Scottish social housing targets
Hire an energy cost consultant for tenants and residents
Continue to work with developers by improving the specifications in the new construction features to make them more energy efficient.
Danny Davlin, East Renfreshire Council Housing and Maintenance ChairHe said, "It is great to see the progress that has been made here in this very difficult barber. These high-quality new buildings will soon provide much-needed housing for tenants and families, so I look forward to seeing the work completed in the coming months.
"The technology used in these energy-efficient homes reduces heating costs, making a big difference to our tenants. We are fully committed to improving our tenants' homes and supporting landlords and other tenants to improve energy efficiency, ensuring that all residents in East Renfreshire live in affordable housing. The 'Go to Zero' strategy demonstrates our commitment and commitment to the Scottish Government's climate change goals.